The flowy silk used for the Shadow Embellished Silk Top was not the first fabric I cut out for the top.  Initially I had selected a crisper silk twill in a paler lavender.
Not wanting to return the cut fabric to the Fabric Stash, I was determined to finish the twill tank top.
To be truthful, I should note that what I did was take a week and remake the tank top four or five times.
Twill and Georgette do not behave the same.  Georgette is sheer and flows.  Twill is crisp and well, is crisp.
The redesigned tank pattern required several reductions in width to avoid looking like a maternity top tent.
Once under the spell of the embellish, it is difficult to embrace "plain-ness."   Some subtle smocking replaced the pleats in the center back.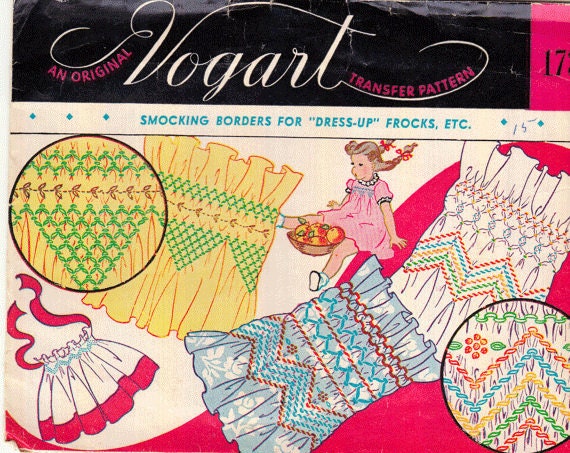 The smocking was done using a single set of iron-on smocking transfers from Vogart circa 1950s.  Perfect for just a touch of smocking.
I have always loved smocking and it is nice to work it into clothing once in a while.
During the remakes of the remakes, the tank was shortened, shoulders width reduced, neckline lowered and width increased and bust darts re-angled and relocated (the rather humorous first attempt had horizontal darts at my waistline!).
I became an expert at setting my sewing machine tension gauge for easy seam removal (I can only hope I reset it prior to final seaming!!)
All the remakes and revisions overcame the good intentions of making a true pattern post-fitting.  I did get a final version of the yoke pattern, though.
Now, what to wear it with?   Unfortunately, the top "bunches" in the front (as shown in the unflattering front view photo) when worn with the grey skirt I had in mind.
Perhaps white stretch jean skirt or leggings?